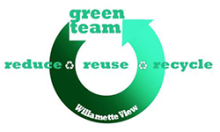 Mixed Recycling in Blue or Green Bins
Newspaper, magazines, mail, plain paper, stationery, and envelopes (window envelopes also OK)
Plastic milk jugs
Plastic non-refundable bottles, put caps in trash
Plastic tubs but no square or clamshell containers
Paperboard containers for milk and other liquids
Metal cans, lid still attached or lid in trash
Glass Containers in Separate Bin
Empty and clean all items, put lids & caps in trash
Broken glass & incandescent bulbs in trash, wrapped well for safety
Refundable Cans, Plastic and Glass Bottles in Gray Bin
Must say OR 10¢ on label or top of can
Rinse containers, drain well, put caps in trash
Do not crush cans
Empty Plastic Bags go only in the Yellow bin
Only the stretchy kind
No black plastic bags
Mailers from Amazon are OK but stickers and labels must be removed
Corrugated Cardboard Boxes
Flatten and put in designated area, different in each building
Styrofoam
In marked bin, block foam and foam peanuts in a plastic bag
Location is different for each building, look for the signs
Food Scraps
Compost bins are located at the loading dock areas of the Riverview Kitchen and the White Oak Grill
For complete information visit the Willamette View food Composting Guide.
These Items Cannot be Recycled
All food and drink to-go containers and their lids
Plastic containers that are square or rectangular
Boxes from frozen and refrigerated foods
Facial tissues/paper towels/paper napkins
Bags from inside cereal, cracker or other boxes
Any lid from jars, plastic tubs, bottles, milk jugs
Anything with food residue in or on it
Food of any kind
Plastic forks, spoons and knives
Paper plates and coffee cups
Pizza boxes: even if they are unused, they cannot be repurposed
Plastic package wrap or plastic bags that are not stretchy
Bubble wrap mailers that have paper attached
Wrapping paper, tissue paper or greeting cards with glitter on them
Molded plastic from packaging
Plastic bottles that hold less than 6 oz.
All cash register receipts
Shredded paper- use the secure bin in your building
Paper wrapper from paper reams (these are treated with flame retardant)
LED & compact fluorescent light bulbs go in the marked container on the shelf
Long fluorescent bulbs on the shelf by the LED container
Be a responsible recycler.  It's better to have something recyclable in the trash than trash in recycling.
When in doubt, throw it out!
1/2/2023